The Spoils of Feis Ile 2023 - Part 2
6:30pm - 20th September 2023
Novotel Canberra
Cost: $100-125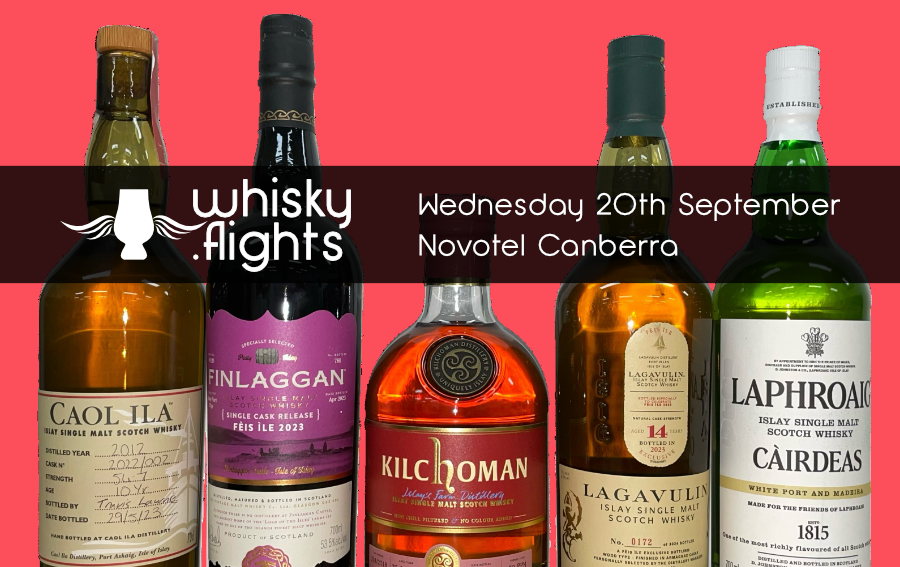 Feis Ile. A religious experience for any peat-head whisky drinker.
With 9 distilleries (and counting) on Islay, plus wring-in Jura from its neighbouring island, there's more whisky to sample than you can throw a glencairn at (trust us - we tried!) and an amazing atmosphere that thousands of revellers from all across the globe bring to the party!
After sampling Bruichladdich in our August flight, this flight we will have a collection of Feis whiskies from the other Islay distilleries that were collected on the island during this years Feis by your Whisky Flights host, Travis.
The Lineup:
Lagavulin 14yo Feis Ile 2023 Release
Laphroaig Cardeas 2023 - White Port and Madeira
Finlaggan Feis Ile 2023 Single Cask release
Caol Ila Hand-filled 10yo Single Cask #2022/002
Kilchoman Hand-filled Red Wine Single Cask
A cheese & charcuterie plate with locally sourced produce from Canberra and the Southern Tablelands is provided for each attendee at in-person events. Please advise us via email if you have any allergies or dietary requirements that we need to be aware of.
The First Edition bar at the Novotel Canberra will also be offering every attendee a discount on all food and drinks before, during, and after our Whisky Flights event - simply show your ticket at the bar when ordering to receive your discount!
This event is only for persons aged 18 years or older.