Virtual Flight
Cut Hill - With The Distiller
7:00pm (AEST) - 25th August 2023
Online Event via Zoom with whisky tasting kit
Cost: $80 - 100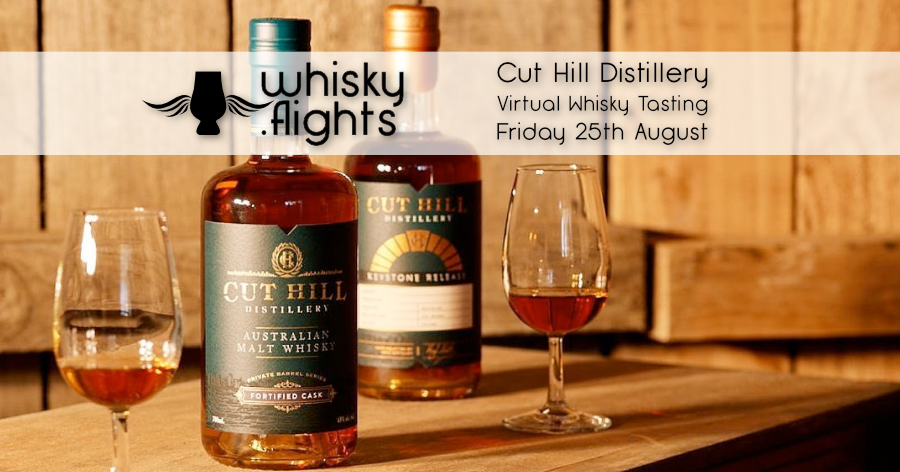 Join us live from Hindmarsh Valley in South Australia with Cut Hill Distillery via video chat on Zoom as we go through a wide selection of their delicious whiskies!
Cut Hill Distillery is committed to exploring our Australian whisky roots, tapping into the history books, and evolving the traditions. A combination of old-world techniques and modern technology will form the basis of our whisky production, creating a contemporary take on a classic style.
In 1868 Jabez Grimble was commissioned for an ambitious project to make the descent into Victor Harbor safer, via Cut Hill. Stone was carved out of Cut Hill and laid to form a retaining wall without the use of lime or mortar. It is a wall admired around the world for its engineering and execution. Fast forward over 150 years and the road now offers safe passage to Cut Hill Distillery's 40-acre property in Hindmarsh Valley and to Victor Harbor.
Our initial release comprises of multiple, private cask bottlings while we wait for our newly produced spirit to mature. The barrels at Cut Hill Distillery have been maturing for a number of years, individually benchmarked and thoughtfully vatted together by our head distiller.
This tasting will contain 5x30ml bottles of Cut Hill whisky - we suggest pouring half of each during the tasting and going back to the rest either at the end of the tasting, or at your leisure.
The Lineup (5x 30ml):
Private Barrel Series Wine Cask
Private Barrel Series Fortified Cask
Keystone Release - Stonecutter Series 2: Apera Single Cask
Lost Phoenix Peated Pancetta Port Cask
Keystone Release - Stonecutter Series 4: Mead Cask
The virtual doors will open at 7:00pm for introductions, and a 7:15pm start to tasting the whiskies; followed by general questions and discussions.
Please note that these times are Australian Eastern Standard times (ACT, NSW, Victoria, Queensland, and Tasmania). In South Australia & Northern Territory it'll be 6:30pm, and in Western Australia it'll be 5:00pm.
At Whisky Flights we love our planet, and we want to enjoy our whisky tastings without causing environmental harm. To this end, please re-use or recycle your glass whisky bottles and their plastic caps. Please also re-use, recycle, or compost, all of the paper and cardboard supplies and packaging as well.
All of the paper and cardboard packaging used in getting your Whisky Flights tasting kits to you are FSC certified as coming from sustainable sources, and are fully compostable and recyclable. Your Whisky Flights tasting kits are also sent out to you in fully compostable eco-satchels (except for very large orders).
Please note that this event is strictly for people aged 18 years and older.