Australia vs Ireland vs Scotland:
An exploration of Sherry casks
6:30pm - 19th October 2022
Novotel Canberra
Cost: $79 - $99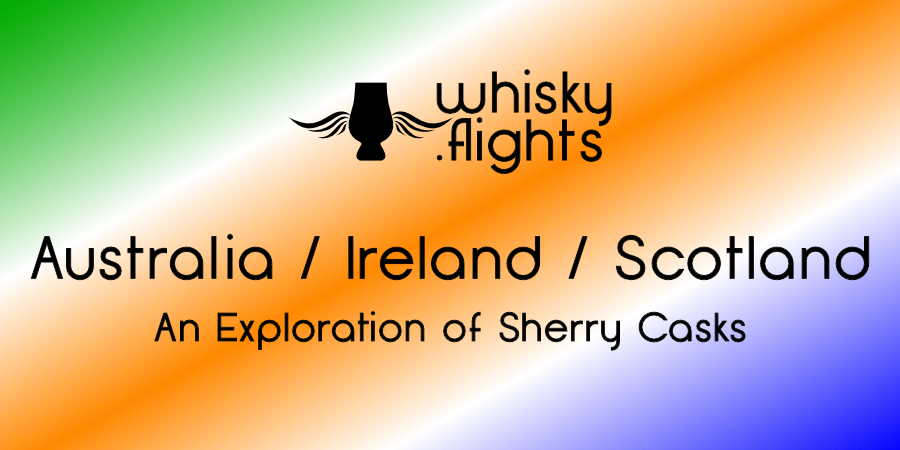 The upstart vs the original vs the master. All in Sherry (or apera) casks.
From the Aussies we've got the latest addition to Hobart Whisky's core range - their PX Solera. Replicating traditional solera methods, only a portion of the available whisky was bottled for this batch, leaving the rest to continue maturing in the traditional solera style. Joining Hobart is a very special release from Dram Full and Black Gate; a bottle that was released as a collaboration early on in the pandemic for a virtual tasting organised by Dram Full just as we were all confronted with lockdowns.
From the birthplace of modern whisky, Ireland, we have the only single malt in the Writer's Tears range; the Redhead - non chill-filtered, and a bright ruby red colour from its full maturation in Oloroso Sherry casks; this little Irish number will put up a decent fight against the bigger names from neighbouring Scotland! Also from Ireland is the very first single cask Redbreast single pot still ever (officially) brought into Australia - exclusively by Barrel & Batch. 19 years old, cask strength, with full maturation in Oloroso Sherry casks.
Scotland. A mecca for malt whisky lovers. Represented in this battle by 2 releases that will absolutely delight any Sherry cask lover - A cask strength single cask from the windswept isle of Orkney. Fully aged in a single European oak Sherry cask, and so very lightly peated - this whisky bring a big bold presence to the battle against Ireland &ampl Australia! Not to be outdone, the Scottish mainland comes to the party with a Glenrothes Sherry bomb like none you've experienced before - cask strength, no chill filterin, no added colour. Aged in Oloroso Sherry casks for 12 years before being finished in a collection of 64 litre 'octave' Oloroso Sherry casks; giving you a supercharged Sherry bomb with a luscious mouthfeel!
The Whisky Lineup:
Hobart Whisky Pedro Ximenez Solera #1
Whisky Freedom: Black Gate Single Cask #47 Cask Strength
Writer's Tears Redhead
Redbreast 19yo Single Cask #10755
Highland Park Single Cask #4601
The Darkness: Glenrothes 12yo Oloroso Cask
The Food
A cheese & charcuterie plate with locally sourced produce from Canberra and the Southern Tablelands is provided for each attendee at in-person events. Please advise us via email if you have any allergies or dietary requirements that we need to be aware of.
The First Edition bar at the Novotel Canberra will also be offering every attendee 25% off all food and drinks before, during, and after our Whisky Flights event - simply show your ticket at the bar when ordering to receive your discount!
The Fine Print
This event is only for persons aged 18 years or older.
Photo and/or video recording of this event may occur.
Full refunds will be offered in case of event disruptions due to Covid-19.
Full refunds are also available for ticketholders who test positive, who need to isolate, or who are awaiting testing results.