Cut Hill - With The Distiller
6:30pm - 18th October 2023
Novotel Canberra
Cost: $100-120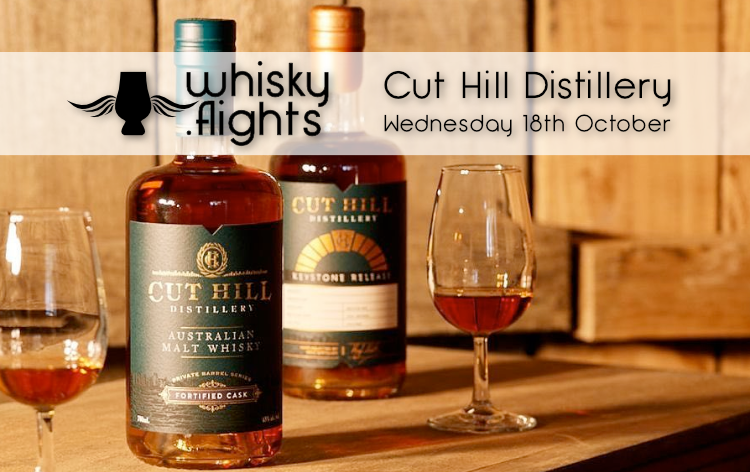 Cut Hill Distillery is committed to exploring our Australian whisky roots, tapping into the history books, and evolving the traditions. A combination of old-world techniques and modern technology will form the basis of our whisky production, creating a contemporary take on a classic style.
In 1868 Jabez Grimble was commissioned for an ambitious project to make the descent into Victor Harbor safer, via Cut Hill. Stone was carved out of Cut Hill and laid to form a retaining wall without the use of lime or mortar. It is a wall admired around the world for its engineering and execution. Fast forward over 150 years and the road now offers safe passage to Cut Hill Distillery's 40-acre property in Hindmarsh Valley and to Victor Harbor.
Our initial release comprises of multiple, private cask bottlings while we wait for our newly produced spirit to mature. The barrels at Cut Hill Distillery have been maturing for a number of years, individually benchmarked and thoughtfully vatted together by our head distiller.
The Lineup:
Private Barrel Series Wine Cask
Private Barrel Series Fortified Cask
Keystone Release - Stonecutter Series 2: Apera Single Cask
Lost Phoenix Peated Pancetta Port Cask
Keystone Release - Stonecutter Series 4: Mead Cask
A cheese & charcuterie plate with locally sourced produce from Canberra and the Southern Tablelands is provided for each attendee at in-person events. Please advise us via email if you have any allergies or dietary requirements that we need to be aware of.
The First Edition bar at the Novotel Canberra will also be offering every attendee a discount on all food and drinks before, during, and after our Whisky Flights event - simply show your ticket at the bar when ordering to receive your discount!
This event is only for persons aged 18 years or older.
Upcoming Flights
We've got a great selection of flights planned for the near future, with destinations including some favourite distilleries from Islay, and Speyside, in Scotland; a tour of Irish single casks, a meandering tour across Europe and Scandinavia, and some stunning sights from the United States of America.
We will also be taking off for some domestic destinations, where stories abound of the hard yakka that goes into setting up some of The New World's most loved distilleries - where we will try some of the boldest, meatiest, whiskies that have been slumbering away on this sunburnt country of ours!
Make sure your luggage is securely stowed, and your seatbelts are done up low and tight folks - some of these flights will be like none that have ever graced this beautiful capital of ours!
---
Cut Hill - With The Distiller
6:30pm - 18th October 2023
Novotel Canberra
Cost: $100-120
View event details →
Highwayman - Meet the Maker!
6:30pm - Friday 10th November 2023
Novotel Canberra
Cost: TBA
View event details →
Riverbourne - Meet the Maker!
6:30pm - 15th November 2023
Novotel Canberra
Cost: $TBA
View event details →