Local Whisky & Chocolate Pairing
Riverbourne & Jasper+Myrtle - Meet the Makers!
6:30pm - 13th December 2023
Novotel Canberra
Cost: from $99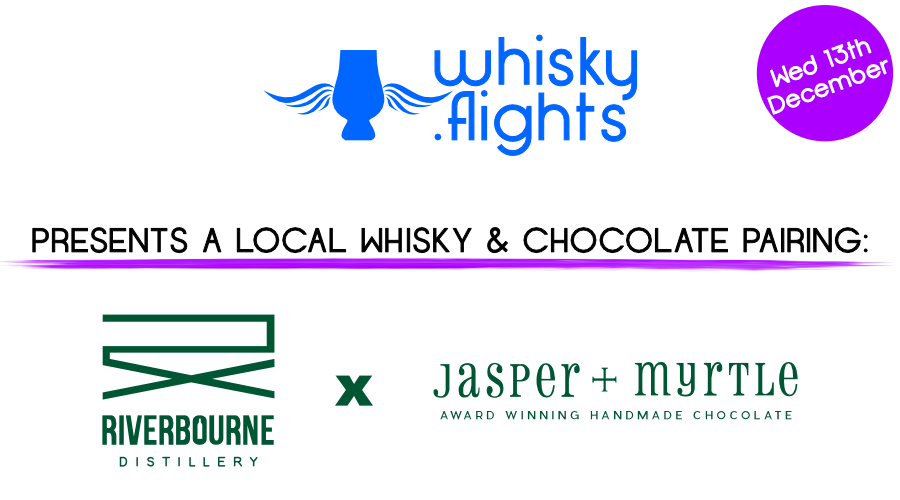 A pairing of local whisky & local chocolate!
Jasper+Myrtle are nestled in the Dairy Road precinct, right near Capital Brewing. Jasper+Myrtle is a family affair - run by Li Peng and Peter - and they only use ethically sourced cocoa beans from Bougainville, where Li Peng and Peter visit regularly to catch-up in-person with the farmers that grow their beans.
Riverbourne Distillery hails from Jingera, near Captains Flat - less than an hour from Canberra. Martin Pye, owner and distiller, is no stranger here at Whisky Flights and is back for his 5th event with us!
In this December's lineup we will have Riverbourne Identity - a lighter style of whisky akin to Japanese or Irish whiskies; Riverbourne Ultimatum - a more full-bodied whisky similar to many found in Scotch whiskies from the Speyside region; Riverbourne; Riverbourne Objective - a mix of unpeated Australian barley and peated Scottish barley, an elegant fruity and smokey blend of ex-Bourbon and French oak casks; Riverbourne Supremacy - a whisky that will evoke memories of Islay with its double barrel shotgun of peat resting on a sweet and fruity undercarriage.
Also present will be a secret Riverbourne whisky pulled from the Whisky Flights archives, and small batch gelato from Jasper+Myrtle made from Riverbourne's Tribute single cask rum!
The Lineup:
Riverbourne Identity + Jasper+Myrtle Chocolate
Riverbourne Ultimatum + Jasper+Myrtle Chocolate
Riverbourne Objective + Jasper+Myrtle Chocolate
Riverbourne Supremacy + Jasper+Myrtle Chocolate
A Secret Riverbourne Whisky + Jasper+Myrtle Chocolate
Riverbourne Tribute single cask rum gelato by Jasper+Myrtle
The Food
A cheese & charcuterie plate with locally sourced produce from Canberra and the Southern Tablelands is provided for each attendee.
As part of the whisky & chocolate pairing, each pairing will include different pieces of chocolates. Each piece will contain other flavourings and ingredients. This may include nuts.
Rum flavoured gelato will also be served as part of this event.
Please advise us via email if you have any allergies or dietary requirements that we need to be aware of.
The Fine Print
This event is only for persons aged 18 years or older.
Photo and/or video recording of this event may occur.
Upcoming Flights
We've got a great selection of flights planned for the near future, with destinations including some favourite distilleries from Islay, and Speyside, in Scotland; a tour of Irish single casks, a meandering tour across Europe and Scandinavia, and some stunning sights from the United States of America.
We will also be taking off for some domestic destinations, where stories abound of the hard yakka that goes into setting up some of The New World's most loved distilleries - where we will try some of the boldest, meatiest, whiskies that have been slumbering away on this sunburnt country of ours!
Make sure your luggage is securely stowed, and your seatbelts are done up low and tight folks - some of these flights will be like none that have ever graced this beautiful capital of ours!
---
Local Whisky & Chocolate Pairing
Riverbourne & Jasper+Myrtle - Meet the Makers!
6:30pm - 13th December 2023
Novotel Canberra
Cost: from $99
View event details →