Whisky Flights Christmas Party: The year that was 2021
6:30pm - 8th December 2021
Novotel Canberra
Cost: $120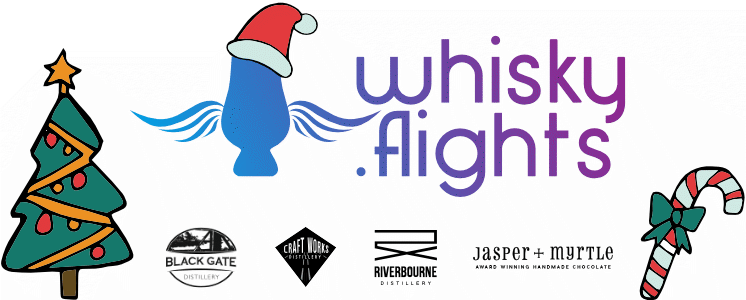 Join us for our very first Whisky Flights Christmas party - where we will take a look back at some of our favourite whiskies and distilleries from throughout the year that was 2021.
Joining us will be three distillers from across NSW who have presented some of our favourite flights this year - Brian Hollingworth from the Black Gate distillery in Mendooran, Craig "Crafty" Fields from the Craft Works distillery in Capertee, and Martn Pye from the Riverbourne distillery in Jingerra.
Along with whiskies from Black gate, Craft Works, and Riverbourne, we will also be revisiting a couple of other whiskies selected from flights throughout the year.
In conjunction with Jasper+Myrtle from Fyshwick, our favourite chocolatier in Canberra, we will be indulging in an epic single cask Riverbourne rum gelato! Don't tell grandma, but we reckon it's way better than her Christmas cake!
Individual cheese & charcuterie plates featuring Tilba cheese, Fedra olives, and Pialigo meats; and a bottle of water, will be provided for each attendee. If you have any dietary requirements, please advise us via email.
The First Edition bar at the Novotel Canberra will also be offering every attendee 25% off all food and drinks before, during, and after our Whisky Flights event - simply show your ticket at the bar when ordering to receive your discount!
Check In CBR QR codes will be placed at each seat. Checking in is compulsory for all attendees.
This event is only for persons aged 18 years or older.
Upcoming Flights
We've got a great selection of flights planned for the near future, with destinations including some favourite distilleries from Islay, and Speyside, in Scotland; a tour of Irish single casks, a meandering tour across Europe and Scandinavia, and some stunning sights from the United States of America.
We will also be taking off for some domestic destinations, where stories abound of the hard yakka that goes into setting up some of The New World's most loved distilleries - where we will try some of the boldest, meatiest, whiskies that have been slumbering away on this sunburnt country of ours!
Make sure your luggage is securely stowed, and your seatbelts are done up low and tight folks - some of these flights will be like none that have ever graced this beautiful capital of ours!
---
Whisky Flights Christmas Party: The year that was 2021
6:30pm - 8th December 2021
Novotel Canberra
Cost: $120
View event details →
Yack Creek Distilling - Meet The Distiller!
February 2022
Novotel Canberra
Cost: $TBA
View event details →