Yack Creek Distilling - Meet The Distiller!
6:30pm - 9th February 2022
Novotel Canberra
Cost: $120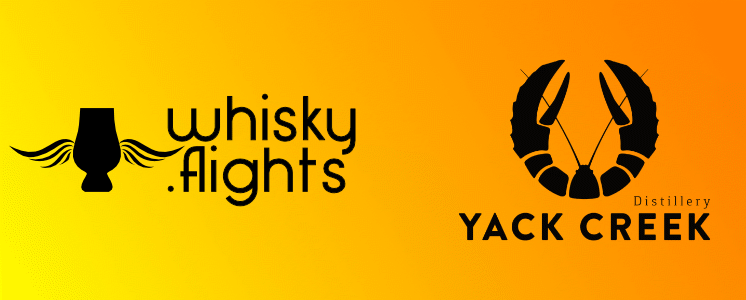 Yack Creek Distillery was established in 2016 after 2 friends discussed business opportunities while sitting on a beach in Western Australia. Both had a passion for whisky and rum and decided to explore the possibilities of how they could make their own. This idea became a hobby but soon developed into a business decision and thus an ambitious dream of creating a micro distillery.
Yack Creek Distillery is situated 2 kilometers out of the township of Yackandandah in Victoria's High Country - on acreage with the Creek to the east and the Stanley State forest to the south. The creek, once a mecca for settlers endeavouring to fill their pockets with gold, flows all year round and includes brown trout and the Murray Spiny Crayfish. Hence the logo was born from the Crayfish head.
Yack Creek whisky is made from 100% Australian malted barley, and starts out as small batches of 500kg of grain, which is ground directly prior to mashing.
Join Whisky Flights this February as Yack Creek's distiller and co-founder, Jaime, travels up to Canberra to chat with us as we sample his delicious whisky.
The Lineup:
Wheat Whisky
Apera-casked Single Malt
Bourbon-casked Single Malt
Bourbon-casked Cask Strength Single Malt
French Oak Red Wine Casked Single Malt
French Oak Red Wine Casked Cask Strength Single Malt
Individual cheese & charcuterie plates featuring Tilba cheese, Fedra olives, and Pialigo meats; and a bottle of water, will be provided for each attendee. If you have any dietary requirements, please advise us via email.
The First Edition bar at the Novotel Canberra will also be offering every attendee 25% off all food and drinks before, during, and after our Whisky Flights event - simply show your ticket at the bar when ordering to receive your discount!
Check In CBR QR codes will be placed at each seat. Checking in is compulsory for all attendees.
This event is only for persons aged 18 years or older.
Upcoming Flights
We've got a great selection of flights planned for the near future, with destinations including some favourite distilleries from Islay, and Speyside, in Scotland; a tour of Irish single casks, a meandering tour across Europe and Scandinavia, and some stunning sights from the United States of America.
We will also be taking off for some domestic destinations, where stories abound of the hard yakka that goes into setting up some of The New World's most loved distilleries - where we will try some of the boldest, meatiest, whiskies that have been slumbering away on this sunburnt country of ours!
Make sure your luggage is securely stowed, and your seatbelts are done up low and tight folks - some of these flights will be like none that have ever graced this beautiful capital of ours!
---
Yack Creek Distilling - Meet The Distiller!
6:30pm - 9th February 2022
Novotel Canberra
Cost: $120
View event details →